Zoek met minimaal 3 karakters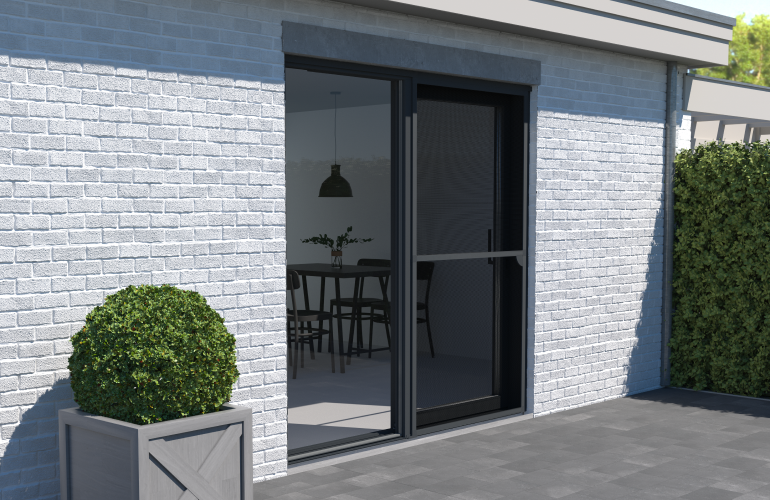 Choice stress? This door insect screen suits you!
Are you looking for a door insect screen for French doors? An insect-repellent solution that your children and/or pets can easily walk through? Or are you just looking for a screen that can take a beating? At Livn, we have it all! But among all those pleated insect screen doors, door curtains and retractable screens, you sometimes can't see the wood for the trees. That's why in this blog, we explain the benefits of each door insect screen. So you can find the insect screen that fits your situation perfectly.
Door curtain
''A door curtain? But that isn't a door insect screen, is it?' True! However, a door curtain can be a good alternative to a screen. One of the biggest advantages of a door curtain is its low purchase cost. You can get a door curtain from around €20. This makes it an interesting option, especially if you are looking for a temporary solution.
In addition, it is ideal for children and/or pets. They easily walk through it. The material that door curtains are made of is often soft. Compared to a door insect screen, a door curtain also offers a lot more options in terms of design and colours. Will you opt for a soft Chenille fly curtain or a modern curtain made of cotton beads? Find your favourite Livn door curtain here.
Lamella screen
You know them: those screens with long overlapping strips of mesh down to the ground, convenient in all kinds of ways. It starts with easily cutting it to size. At Livn, we classify this through Easy, Medium and Advanced. A lamella screen falls into the 'Easy' category.
In addition, a lamella screen keeps you walking out or in easily. Even with full hands! Indeed, the screen does not create an additional barrier. Not using the screen? Then you can easily slide the lamellas to one side. That way, you won't be looking at the door screen unnecessarily.
Hinged screen door
A screen door, or hinged screen door, is like an extra door with screen mesh in front of your outside door. It is the most robust of all the door screens and can take a beating. Because of the often self-closing hinges combined with a magnetic closure, a screen door automatically closes behind you. This way, insects and other pests won't have a chance to slip inside!
Opting for a screen door from Livn? Then things will be extra easy for you. Thanks to the telescopic adjustable profiles, our screen door can be easily set to the right size without sawing! You also have the choice between a white or anthracite-coloured frame.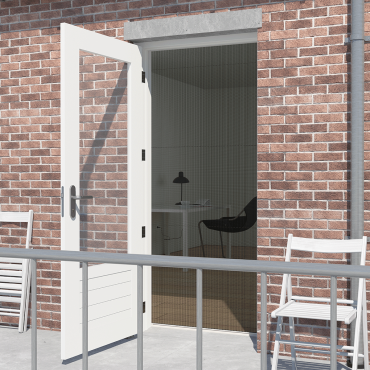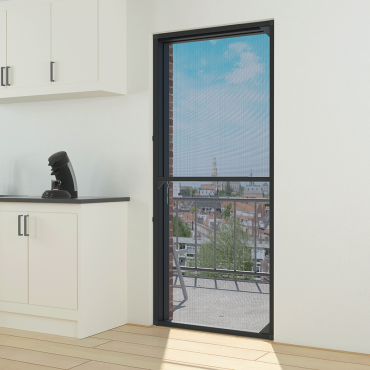 Sliding screen
Looking for a door screen made for (single) sliding doors? Then a sliding screen is what you need! Thanks to the sliding mechanism, the screen takes up virtually no space. So you don't have to compromise on space in your garden or on your terrace. Do you want the screen to slide left or right? With the Livn sliding screen door you can do both, depending on the sliding direction of your sliding door. Keep in mind that fitting a sliding screen requires some DIY experience.
Retractable insect screen
A retractable screen is a popular choice because it takes up little space. Since the mesh rolls up in the cassette instead of folding (as with a pleated screen), the mesh cassette of a retractable screen is very slim. Will you also opt for a cassette in the colour of your window frame? Then the screen only stands out as soon as you use it. In addition, this screen is easy to customise yourself.
Choosing the Livn retractable screen door Plus? Thanks to the damper in the roller mechanism, you will never again be disturbed by the sound of a screen door while sitting in the garden. Silent opening and closing guaranteed!
Pleated insect screen
A pleated screen door is, according to many, the most stylish way to keep insects out. Pleated mesh often has a luxurious look. Don't need the screen? Then the mesh folds up into the mesh cassette.
A great advantage of a pleated screen is that it can often be left open at any position. This applies in any case to the pleated screens from Livn. In addition, pleated screen doors are also suitable for sliding doors and (double) French doors. Optionally, you can choose a pleated screen with a chain at the bottom. This ensures that, even when the wind blows, the door screen stays firmly in place.
In short
We have covered them all: the door curtain, the lamella screen, screen door, sliding screen, retractable screen and pleated screen. Do you remember all the benefits? Not to worry! The table below lists the main advantages for each Livn door screen.
Door curtain
Lamella screen
• Easy to walk through
• Great for children / pets
• Wide choice of design and colours
• Price: € – €€

• Easy to walk through
• Lamellas slide to one side
• Left and right sliding possible
• Price: € – €€

Hinged screen door
Sliding screen
• Can take a beating
• Telescopic adjustable profiles
• Customise without sawing
• Self-closing hinges
• Door can be installed on left or right side
• Price: €€

• Specially made for sliding doors
• Takes up little space
• Left and right sliding possible
• Price: €€

Rectractable screen
Plisséhor
• Takes up hardly any space
• Mesh rolls up into cassette: only visible when needed
• With magnetic closure
• Price: €€


• Luxurious look
• Takes up little space
• Can stay open at any position
• Also suitable for sliding doors
• Also suitable for French doors
• Price: €€ – €€€


Do you know which screen to choose after reading this blog, or do you still need some additional information? Browse Livn's most complete insect screen range in our webshop..
Misschien ook interessant